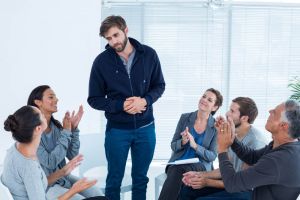 arizona drug rehab centers" />The only real reason anyone ever checks into rehab is to prevent possible relapse and have a manageable withdrawal experience. There are many different misconceptions about healing, which give the impression of a torturous recovery. Most people have a negative image of recovery, such as a violent and sweaty detox with restraining on a bed in a white-walled room. We take a close look at drug rehab experiences so that you can have an easy rehabilitation and healthy life cycle.
Demystifying Arizona drug rehab centers
Evaluation
The first step while getting into rehab is evaluation. Many people must pass through this stage because of underlying severe mental and physical problems. A patient who undergoes individual assessment will have a better chance of achieving success. The best rehab will not thrust you into a recovery program without analyzing the underlying conditions of your addiction.
Detox
Detoxification is the process of eliminating drugs and alcohol from the body. The best detox process should vary for each person, depending on their biology and addiction level. We deal with the most unpleasant symptoms and find the right balance for you to achieve successful detox. Our clinicians have around-the-clock supervision for detox programs, so the patient is in a safe environment until recovery.
Counseling
Anyone undergoing rehab can only overcome the problems in their mind with proper emotional, physical, and mental counseling. Addiction is a mentally repressive illness that could take years to reverse. We solve lifelong challenges of mental and emotional types so that you can get the most effective defense system against relapse.
Preventing relapse
Many people feel anxious about getting back to their life due to the possibility of relapse. This reason is why most people should prepare for individual challenges that cripple the chances of long-term recovery.
We cultivate long-term coping mechanisms in different forms, in both practical and emotional means. We have holistic recovery programs such as yoga and meditation. We also have a unique relapse program to get the right recovery to protect sobriety after rehab.
Aftercare
Aftercare programs only last as long as the individual needs to regain a complete daily lifestyle. Aftercare is an outpatient basis that can last a couple of days, weeks, or months. People must make the right changes to their previous daily routine after return from rehab. We have an aftercare program of counseling, friends, and family in your circle. This routine helps manage their view of your life after leaving rehab. Research shows that you have a better chance for long-term sobriety when they can view you through a positive and supportive magnifying glass.
Recovery
Recovery from substance abuse starts when you focus on getting better without setting a deadline for a full recovery. We have different substance abuse programs that address specific needs to arm you with different coping skills. You can intensify a quick recovery by checking into Arizona drug rehab centers.
You must get into a high-quality rehab with proper professionalism and treatment assistance. Enroll in our program if you wholeheartedly intend to get a clean, fresh life free of addiction illness. We are available on and have a full-time communication staff at your service.
Purpose Healing Center - Drug and Alcohol Rehab Scottsdale, Arizona
480-579-3319
9332 N 95th Way Suite B-203, Scottsdale, AZ 85258
View Larger Map
We welcome your comments!
Treatment and Therapies at
Purpose Healing Center
PHC offers a range of treatments and therapies aimed at helping patients recover from drug and alcohol use disorders in full and sustain long term sobriety.
Cognitive Behavioral Therapy

Rational Emotive Therapy
Contingency Management Interventions
Motivational Interviewing
Client Centered Treatment
Community Reinforcement
Family Therapy
Medication Management
Dual Diagnosis Treatment
Psycho-educational Group Therapy
Relapse Prevention Training
Mindfulness/Meditation/Yoga
Plus attendance at Community Based Support Groups
We Accept Most Major Insurances
Administration Building
9332 North 95th Way, Suite B-203
Scottsdale, AZ 85258
Accreditations and Memberships
We are committed to providing exceptional service to promote long-term recovery.